Our Commitment To A Sustainable Environment!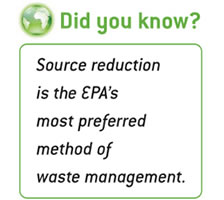 For decades plastic bags have assisted in providing a clean and healthy living environment for millions of people. The positive effects that plastic bags provide are immeasurable. Whether it's the control and disposal of everyday household waste and contaminants or the containment and transportation of infectious and hazardous waste materials, plastic bags have always provided a safe, secure and sanitary way to transport various types of refuse.

Who could possibly measure the prevention of disease or perhaps even the number of lives saved by the use of plastic bags?
We want future generations to experience the same clean and healthy world we experience today. Through research and advanced technology, we have developed products and manufacturing practices that help achieve a more sustainable environment through source reduction, while still providing future generations with the same benefits we enjoy from plastic bag usage!

Diverting Plastic From Landfills
We have developed products and manufacturing processes that divert as much plastic solid waste from landfills as possible while maintaining our product's valuable function for clean, healthy living.
Using Less Petroleum-Based Materials
We have discovered ways to replace petrochemicals through material formulations and the use of abundant natural mineral resources that offer outstanding performance property improvements.
Reducing Energy Usage and Greenhouse Gas Emission
We have found ways to reduce the carbon footprint (greenhouse gas emission) of our products and their manufacturing processes.
Best Environmental Business Practices at Heritage
Reuse
Resource100% of in-house
polyethylene scrap
Resource100% of in-house cardboard
RResource100% reuse of warehouse pallets
Reduce
Fact 1Use of highest efficiency and energy saving motors and drives
Retrofit all warehouses with high efficiency and energy saving lighting
plants to achieve manufacturing efficiencies
Use of natural additives to achieve power savings and manufacturing efficiencies by allowing greater throughput and less scrap
Highly efficient equipment minimizes greenhouse gas emissions, waste water, scrap and landfill needs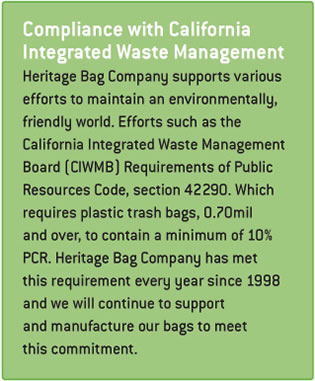 Recycle
Use of corrugated containers and boxes
with high recycled content (47% to 49%)
Source recycled materials in facilities wherever possible
Material Selection
Use of high performance resin to achieve gauge reduction (less material per bag)
Use of natural reinforcement additive to replace petrochemical-based materials reduces greenhouse gas emissions
No heavy metals in inks or color concentrates
Research and Developement
Pioneered the biodegradable/compostable trash bag (See BioTuf page in this brochure)
Ongoing research for alternative non-petrochemical based materials
Development of advanced polymer blends to provide better performance products at significantly thinner gauges thereby contributing to source reduction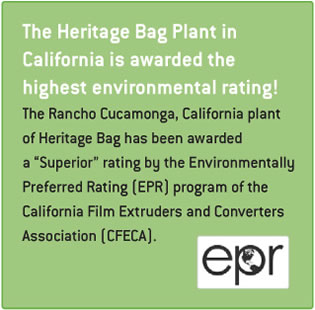 ---